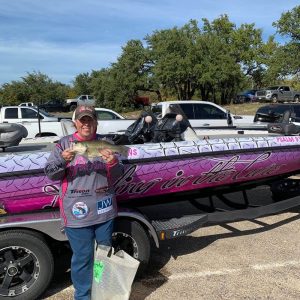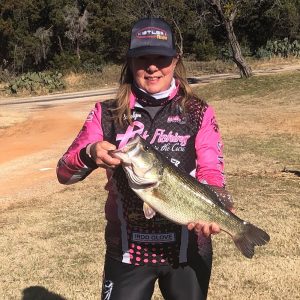 Pink Fishing, Reeling in the Cure
Leisha Loggains/Carolyn Nichols
Pink Fishing got its beginnings in 2007 as a result of a long-term vision to combine the love for fishing with the desire to give back to the community. We elected to target breast cancer due to the personal impact it has had on the lives of our family and friends. Over the past years, Pink Fishing has been fortunate enough to raise over $10,000.00 yearly to the NBCF.
That was not enough, we wanted to continue to donate to research through the NBCF, but also at a more personal level for those actively going through breast cancer. We filed for our nonprofit, member-driven status and on September 24, 2019 were granted 501 (c) (3), Public Charity Status.
Today, Pink Fishing, Reeling in the Cure, is Texas based and co-owned by Leisha Loggains and Carolyn Nichols. We are very excited for this opportunity to carry our dream to the next level.
When your hobby becomes your passion and your passion becomes your mission, you no longer observe from the sidelines but jump in heart first and become part of the action! Our main goal is to spread awareness and prevention, to reach out to those in need whether it would be a local cancer center, homeless shelter, or a stranger who approaches us with questions about Pink Fishing. 
We have so many dedicated women and men who spend endless hours organizing fundraisers from bass, trout, and catfish tournaments, ice fishing tournaments, saltwater tournaments to haunted house to chili cook-offs. Having some of our tournaments filmed for TV, radio and magazine interviews…all of this while honoring our Reel Inspirations, those who are fighting, those who have won their battle, and sadly, those who have lost their fight against this dreaded disease. We have ladies who have been through breast cancer that are there for support of others. And yes, I said men. The men on our Team are incredible!!! They stand by us, they protect us, they are our brothers. Many of them have experienced firsthand what breast cancer can do, they have watched their mother, wife, sister, relative, friend go through this horrible disease and it has changed their life forever. Being a part of our Team and Family gives them a feeling of giving back and it brings honor to their loved ones.
Join Us now, simply fill in and submit our online application form and be part of a Team that is passionate and committed to helping others. Donate Now, your tax-deductible donation helps to advocate for better research, work with communities including homeless shelters and medical clinics to inspire and empower people affected by breast cancer and to achieve immediate and lasting change in their lives through assistance with medical co-pays, care packages, and emotional and spiritual support. Contact Us through our website www.pinkfishing.com or email to [email protected]. Like Us on Facebook www.facebook.com/pinkfishing/ to share photos of your fishing experiences and love and compassion for those who are in need of support.  If you would like to host or sponsor a fundraising event on behalf of Pink Fishing, please contact us. As Bob Mollergren stated, "This is a labor of love. Almost all of us have lost to this horrific disease. Our only compensation is thanks and for us, that's all we need, because if we in some small way contribute to the Cure for Breast Cancer, we have been well paid!"