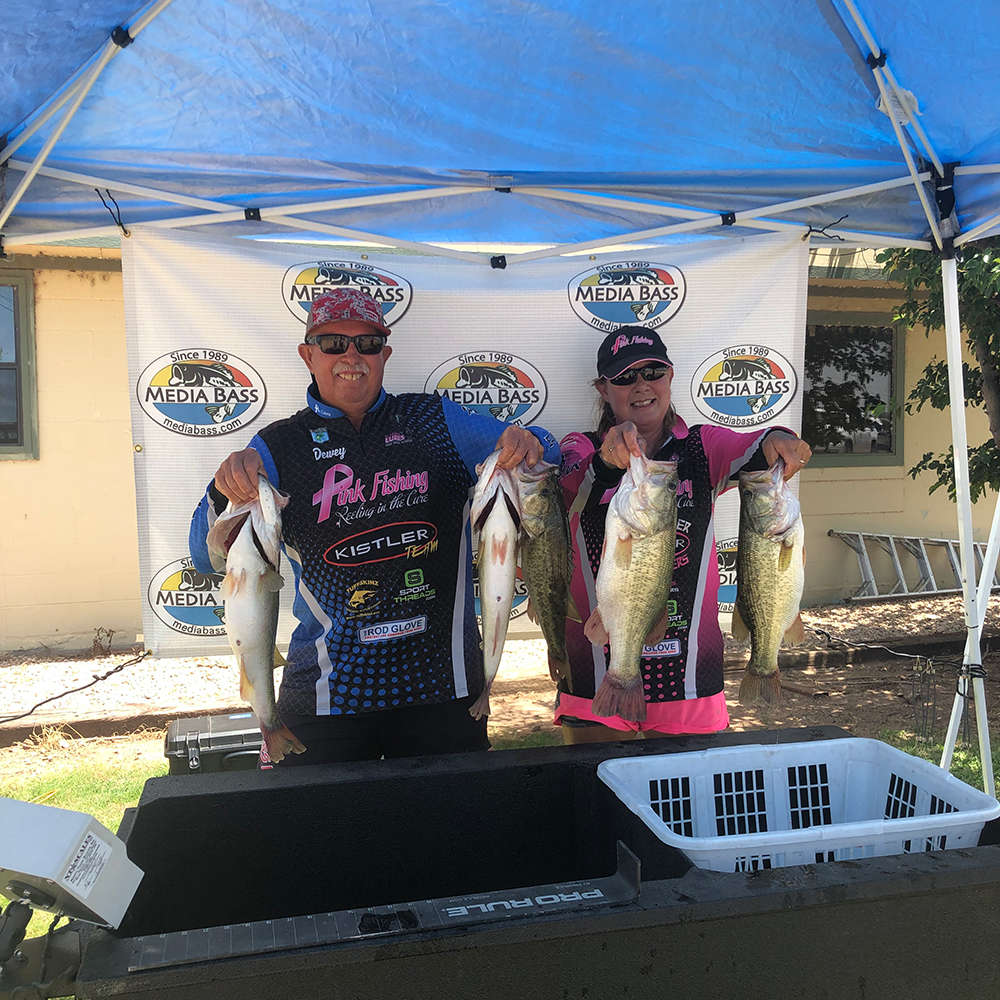 Carolyn Nichols
Board of Director, President
Co-Owner and one of the founding members of Pink Fishing, Inc., Registered Nurse, Respiratory Therapist, Brand Ambassador for the NBCF, TPWD Angler Educator, Angler's Legacy Ambassador, Lifetime member of BASS. Yearly participation as Captain in C.A.S.T. for Kids, Kid's Fish Days, TPWD Kid's Fish. Carolyn teams with her husband Dewey, to fish Media Bass, Still Waters Bass Club, and charity opens.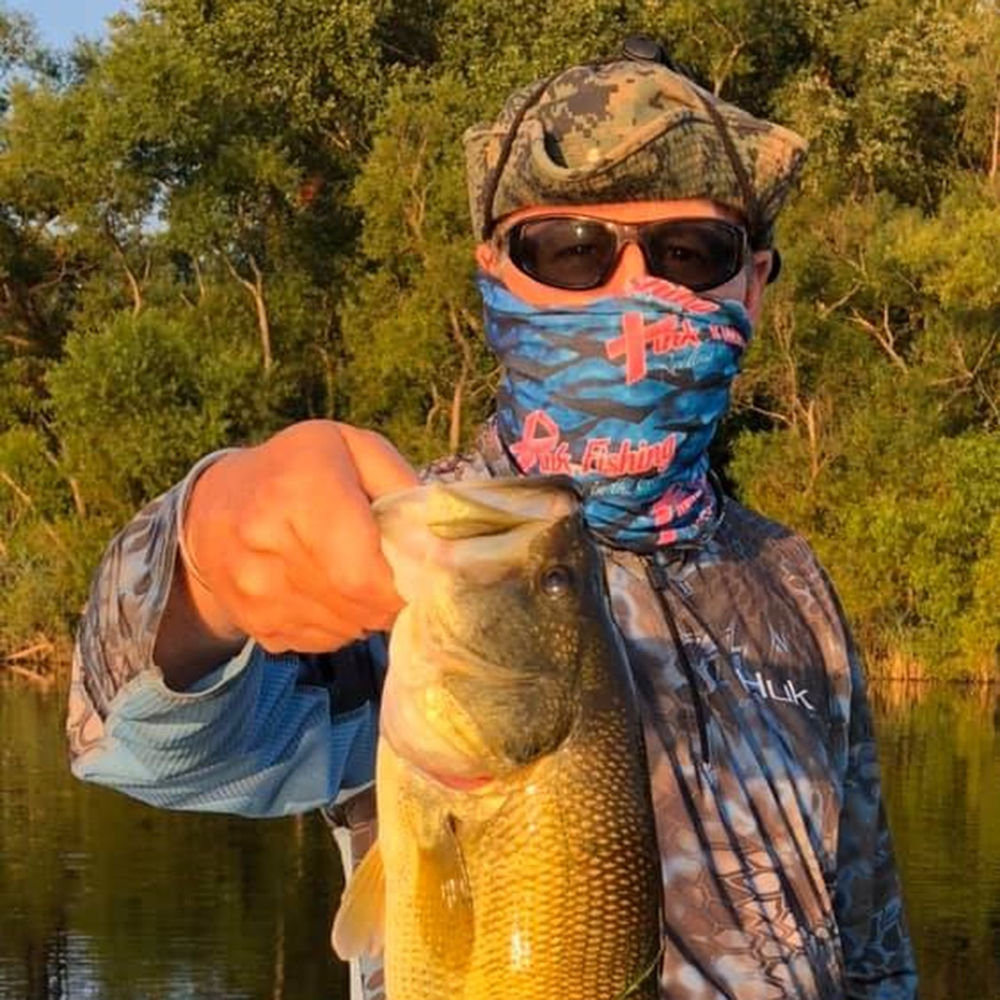 David Zimmerman
Board of Director, Vice-President
Pink Fishing Pro Staff, Reel Inspiration sharing Kelley's journey through Breast Cancer, Co-Chair for Reeling in the Cure, Down the Shore and Carp and Catfish fundraising tournaments for Pink Fishing, Inc., participated in trade shows, 4th Degree Knight for the Knights of Columbus holding positions of Warden and Chancellor. Member of Pink Fishing since 2013. David has been fishing for as long as he can remember and being raised in a military family, has allowed him to fish all over the world. He enjoys wildlife photography, building fishing rods, tying flies, and mixing sound for Cross Roads inspirational rock band.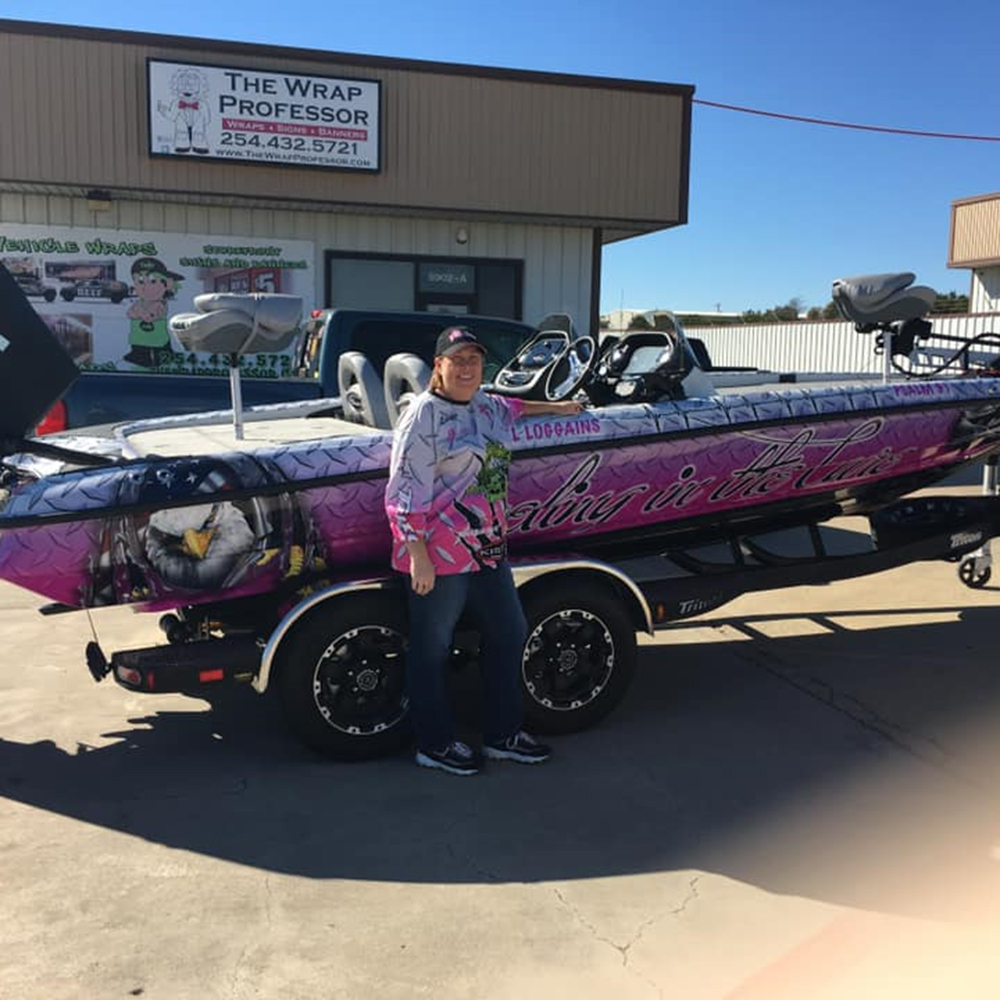 Leisha Loggains
Board of Director, Treasurer
Co-Owner of Pink Fishing, Inc., Tournament Director for Reeling in the Cure Bass Tournaments, Brand Ambassador for the NBCF. Leisha grew up hunting and fishing in Northern Arizona where she lived until she married her High School Sweetheart, Earl, in 1983. She traveled the world with her Best Friend as he protected our Freedoms during his career in the Army until they were docked in Copperas Cove in 1997. In 2007 they competed in "Fishers of Men", were Male/Female Anglers of the Year, qualifying for Regional's each year, and National's twice. 2010, they competed in "Faith Angler Network" claiming Male/Female Anglers of the Year in 2010, 2012 and 2013. They also have and are competing in the TuffMan Circuit, Central Texas Division, have previously qualified to fish the Championship four times, placing 4th in one of the Championships. They are back fishing with the "Fishers of Men", Central Texas Division, and Leisha plans on joining the Women's Bass Tour in 2021. "When your hobby becomes a passion and your passion becomes a ministry!"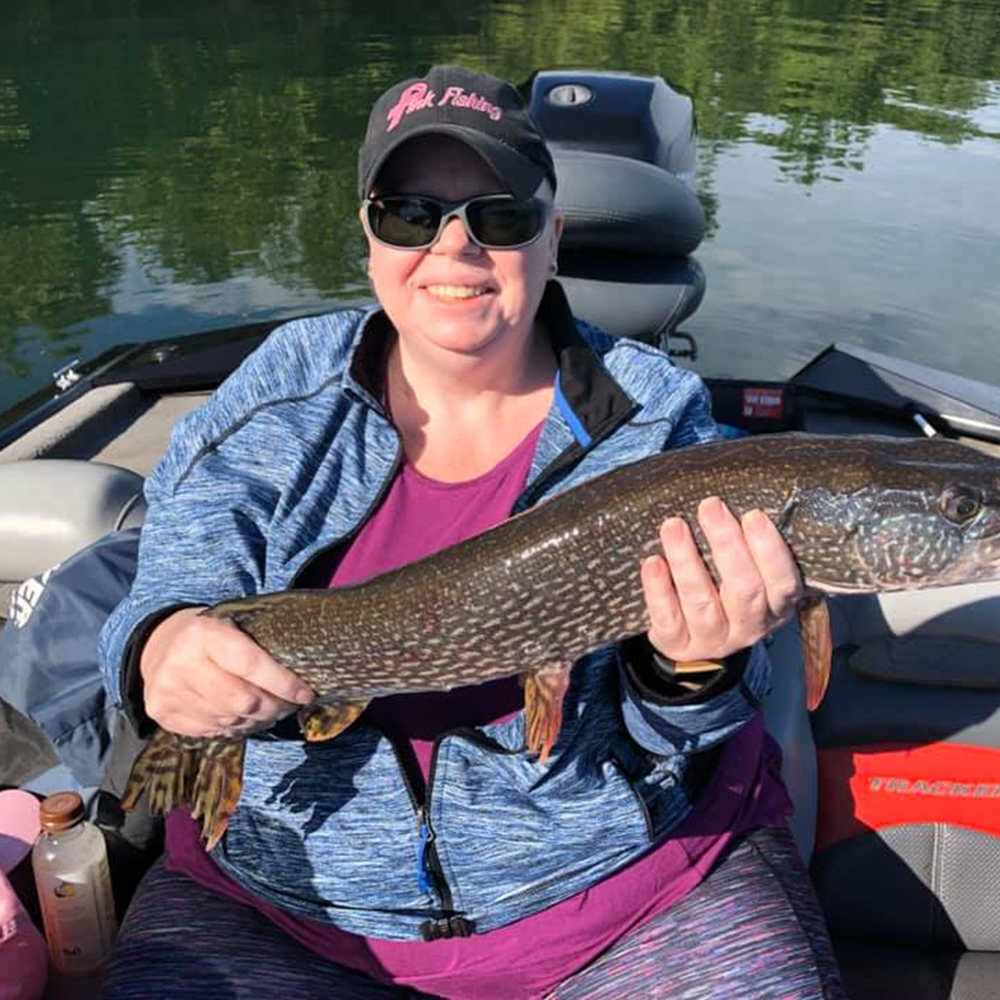 Kelley Zimmerman
Board of Director, Secretary
Pink Fishing Pro Staff, Reel Inspiration sharing my journey through Breast Cancer. Served 4 Years on the Board of Director's for Bucks County Performing Arts Institute, Grant Writing Committee. Member of Pink Fishing since 2013. 30 + years in Management, 10 years working with non-profit companies in a management role. "Fishing for me gives me peace, and solace. Fishing with my best friend my husband, David, is priceless. We connect with nature and each other and share a passion for the sport. Who am I? Friend, Colleague, Wife, Warrior, Fighter, Thriver… my life was forever changed. I made a pact then and I stand by it today… 1 Day to cry, 1 day to ask Why and then we fight… That's what we do…."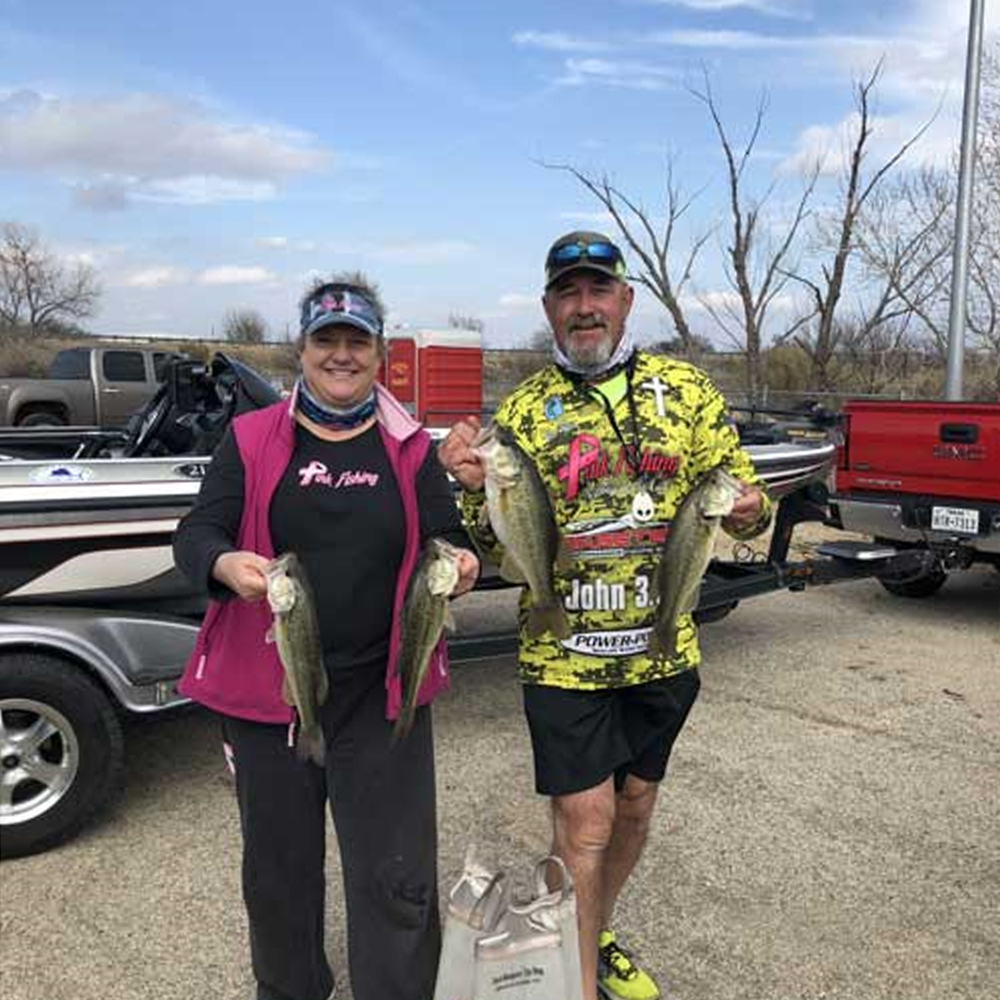 Brandi Mixon
Board of Director, Publicity Director
Brandi became a Pink Fishing, Reel Inspiration in 2012 when she was diagnosed with breast cancer and has continued to work with Pink Fishing. She has worked the Pink Fishing booth at the 2013 Bassmaster Classic in Tulsa, OK and has continued to promote Pink Fishing at Bassmaster Classics in Houston, TX and Knoxville, TN, B.A.S.S. Nation National tournament in Anderson, SC, and the Toyota Bonus Bucks tournaments in Branson, MO and Florence, AL. During all these tournaments, she has visited personally with the pro fishermen and BASS officials. She and her husband Frank have been featured in many interviews/commercials supporting Pink Fishing and breast cancer awareness.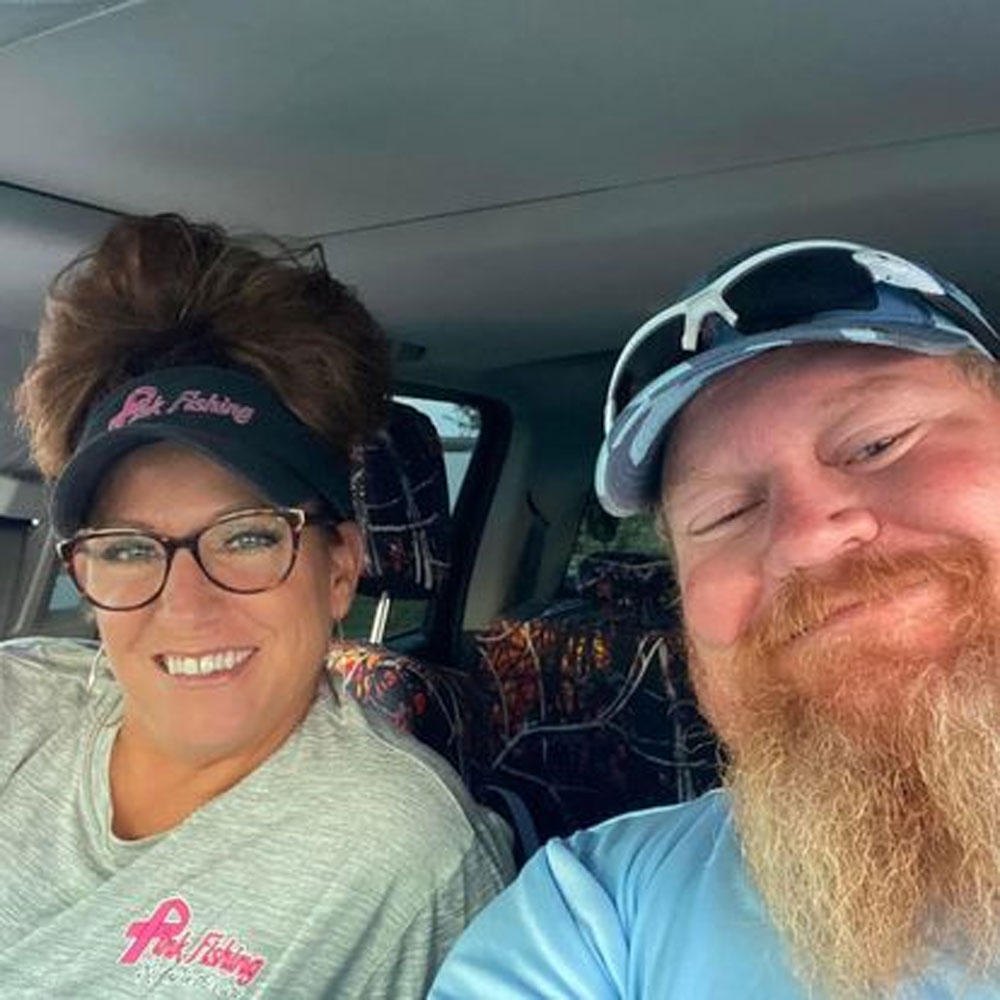 Rachel Aldridge
Board of Director, Pro Staff and Tournament Director
Pro Staff and Tournament Director of Ladies of the Lake Fishing Tournament benefiting Pink Fishing. I have been a member of Pink Fishing since March 2013, participating in multiple charity events bringing awareness of our mission to help those battling breast cancer. I am married to Pro Staff member Chris Aldridge, we have 5 children and 2 grandchildren, our youngest daughter Sierra Brock recently "graduated" from Jr Pro Staff to Pro Staff. We all love to fish and are very proud to represent Pink Fishing on and off the water.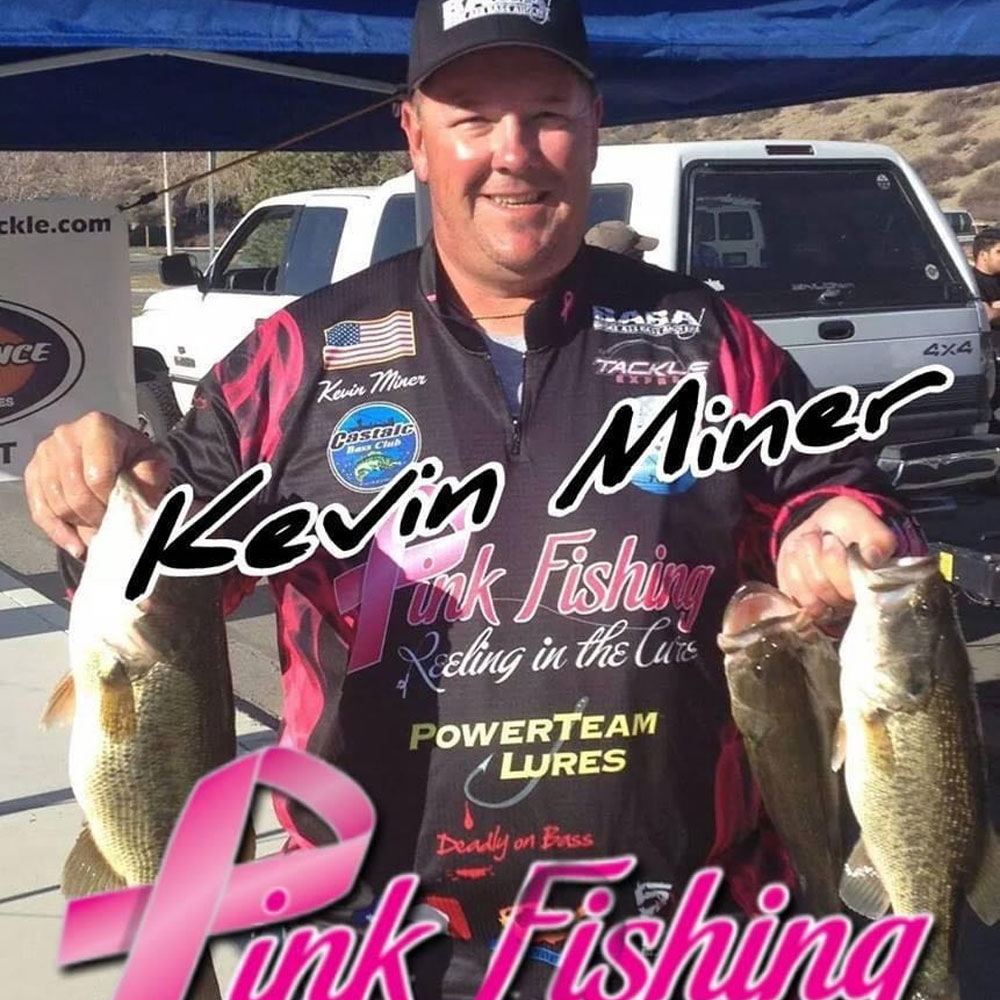 Kevin Miner
Board of Director, Pro Staff and Jr. Pro Staff Director
I am a High School Physical Education teacher and coach at Saugus High School in Saugus California and am married to my beautiful wife Kim (31 years as of 2022) and I have 2 boys – Ryan, who is 25, serves in the United States Marine Corps and Kaleb, who is 21, runs his own online business. I have been a member of Pink Fishing for over 10 years now and love seeing the growth and progression that Pink Fishing has made over the years. I am honored to be a part of such an incredible organization and look forward to helping Pink Fishing reach new levels in the coming years. I fish WON Bass events and many of the local team circuits while also helping to run charity events. My current sponsors and companies that I represent include, Pink Fishing, TH Marine, Crossed Industries, Shredfin Fishing, Spearpoint Performance Hooks, Ardent, Bioenno Power Lithium Batteries, TackleWorkz, Peregrine 250, IROD, Trigger Happy Comfort Grips, Picasso Lures, Trailer Valet and BoatEFX.
As is the case with so many families, mine has been affected by this terrible disease and I want to do whatever I can to help find a cure. I look forward to representing Team Pink Fishing at all my tournaments and fishing outings!! Together we WILL Reel in the Cure!!! WE WILL WIN THIS BATTLE!!!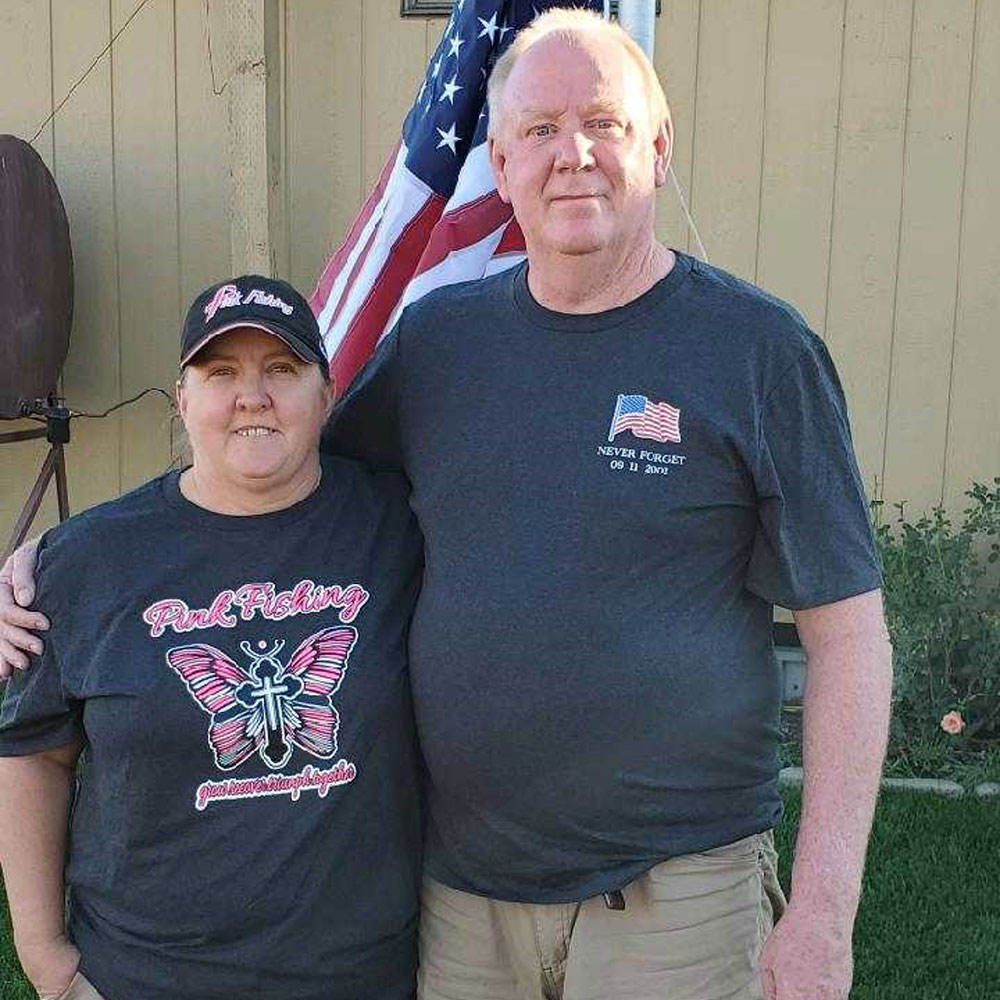 Shelley Sargent
Board of Director, Event, and Inventory Control Specialist
I have been fishing most all my life, tournament fishing for 10 years. I have been married to my wonderful husband for almost 32years and am currently living in Northern California in a small town called Janesville. I joined the Pink Fishing Team to help raise awareness and to support the cause of cancer. I have lost several friends and family to cancer, so I am fishing for their memory and in hopes that a cure is found. Thank you for letting me be part of this AMAZING Team. God Bless for all you do!