Pink Fishing Guide Service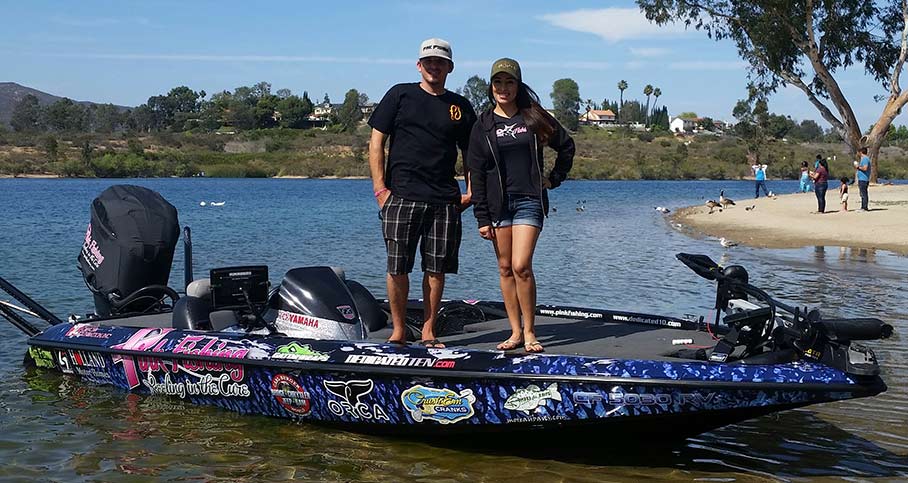 Your Guide
Ryan Escutia has over 15 years of fishing experience and tournament angling experience. Ryan has spent the past 10 years fishing all of San Diego's finest lakes, studying and learning how to catch So Cal's biggest Bass. He provides the knowledge and information needed to assist you in not only a fulfilling day of fishing in the best spots, but his personal touch can help you better yourself as an angler. Whether you are a seasoned fisherman who is just trying to dial in a few techniques, or if you are a beginner who would just like to get out and see what these lakes have to offer, Ryan offers a fun filled day of bass fishing for all levels of anglers.
"I love fishing for a good cause that allows me to support breast cancer awareness and research. If you are not directly affected, like me you know people who are close to you that are fighting this battle every day. I want to do all I can to raise awareness, and to do it in a fun learning experience for all men and women!
I have spent most of my life on the water, both salt water and fresh water, working on and around sport boats, up to my current job managing a local SD tackle shop. I am versed in tournament angling as I have the past several years trying to catch a So Cal Giant. In 2007, I was blessed to have caught a17+ lb largemouth and have been pursuing the next big bite ever since. I specialize in swim bait fishing, and big baits in general. I like having that edge that most people won't spend the time to pursue. It puts me in a place where the opportunity for a giant could come at any time. Whether mentoring young anglers or learning from those more knowledgeable, I look forward to every trip with the same enthusiasm" – Ryan Escutia
The Boat
PF Guide services will take you on a 2013 Skeeter FX20 250 Yamaha SHO, equipped with 2 8ft-Blade Power poles. This boat is equipped with Hummbingbird graphs with Side imaging systems. Minn-kota 101lb thrust trolling motor. To make your experience something you can take with you, the boat is set up to shoot videos via Go Pro at many different angles and you will be provided with a copy of the video highlights from your trip.
Locations
PF Guide services operates at some of So.Cals best lakes including Lake Cuyamaca. Diamond Valley Lake, El Capitan Reservoir, Otay Lake, Lake Murray, Dixon Lake, Lake Perris, Lake Skinner, Lake Hodges, Lake Jennings and Miramar Reservoir.
Pricing
Full Day Rate: $375-400 | Second passenger add-on for $50-$75
What To Bring
A valid fishing license, Sunscreen, Sunglasses, and proper clothing for that days fishing. Weather report can be provided the day before. As well as any other things that you will need for a day on the boat.
What's Provided
An informational fun-filled day of fishing at some of San Diego's premier big bass lakes. There will be ice and beverages on the boat (water, Gatorade.) Snacks and lunch will be provided as well if prior arrangements are made the day before your trip so we can provide you with proper foods. If needed, we will provide you with fishing gear (rods, reels, lures) to help produce some of the best fishing opportunity at a fish of a lifetime.