Gailann Dougherty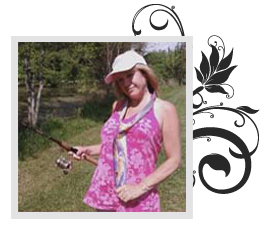 This is Our story, one written from my perspective as a loving husband, proud father and caregiver, about my lovely wife, best fishing partner and lifelong companion, Gailann Dougherty.
Our story begins back in Philadelphia where I was awestruck by this beautiful girl I watched leaving my building. I followed her trying to get a better glimpse of her and maybe attract her attention. She was a petite little thing with flowing blonde hair, dressed to the teeth wearing these cute little boots. I was excited to find out that she worked on the top floor and I made sure I was the one to pick up our daily paperwork from her department. I found out she had caught the eye of another fellow I worked with and I was determined to ask her out for a date first. I knew that she was something special and that I couldn't miss the opportunity. I was going to wait for her that afternoon at the elevators and much to my dismay the other fellow was already there. His intentions were the same as mine. As the doors opened Nick approached her and said Hi, but she just gave him a smile and walked past. Being a little scared I stepped in front of her and Said Hello and introduced myself. She had the face of an angel! Beautiful blue eyes, an incredibly bright smile and a glow about her that just took my breath away. I quickly asked her if she would like to go out somewhere, anywhere she wanted. I asked her for her phone number forgetting I had nothing to write on, so as she gave it to me, I wrote it on my hand. She giggled a bit and told me to call her that night. That was the day she captured my heart.
It was a very snowy night and the buses weren't running well in center city and I didn't want to wait so I walked all the way from town to her house. From that day onward I never looked back. We did everything together. We traveled. She enjoyed skiing and we had houses every season. But I was just content to be anywhere with her.
My family and friends just loved her. She got along with everybody. Gail would just light up any room she walked into.
Life was great ! We moved into an apartment together and were just loving life. Eventually I proposed (and I say it that way because everyone would say, " When are you going to marry that girl ? " ) She accepted and made me the happiest man in the world. We bought a house and she made it as cozy as could be.
We had a bit of a problem conceiving, but after a while we were blessed with our first child, Allison.
Gail was a great mother, loving and caring. She took great care of the both of us.
As usual, life has a way of getting in the way and certain stresses were taking their toll, but Gail was our strength.
When we had our second child, Amanda, we were so happy. We found our dream house in a small town in New Jersey close to family and friends. We were now four peas in a pod.
Sadly one day Gail felt a lump on her breast and knew something was not right. The first doctor she saw said he couldn't feel it but she insisted and had testing done. When we got the news, our hearts sunk. She kept her head up though and said she was going to beat this. To this day I don't know where she got her strength from but Gail was incredibly strong and positive.
We went back and forth from tests to treatments and back again, all the while her with that beaming, glowing face. ( by the way, Face was a nickname I gave her and she always called me Doc). Never did I hear her say, "Why me?"
Gail took the cards she was dealt and handled it with amazing dignity and grace. She had her mastectomy and chemo and when finished the doctor told her that she had a chance of it coming back, small but a chance.
We moved on and began a normal life again until a couple years later Gail found out it had traveled to her back. She went through surgery and treatment and still was strong and positive. What an Amazing woman ! Sadly her cancers were on the move and began popping up in other parts of her body. Each time you could see that it was taking more of a toll on her body but rarely did she complain. We had such a great support group of family and friends that eased the burden. They all knew what a special woman Gail was and pitched in with dinners, visited her, called her on the phone just to chat, or just offered a thought or prayer. All of which was greatly appreciated by my family.
I worked nights so I had the days to go fishing which she was always happy to come along. We both fished out of kayaks and even though I know at first she did it for me, I know quickly she enjoyed it just as much as I did. I was so happy that we had that time together exploring nature and just doing something else we both loved together. She was truly my best fishing partner. Eventually she couldn't make the trips anymore but always told me to go. She knew how important it was to me.When I was out fishing alone I felt a sense of emptyness. But I knew she was with me in spirit.
I dreaded it but my job closed up in New Jersey and the options were limited as to where I was going to have to move for work. I felt the best opportunity for longevity of a position was down here in Virginia. My main concern was to make sure I maintained Good healthcare so Gail could continue treatment. The sad thing was we had to leave our home, family and wonderful support group behind. We tried to make the best of it occasionally traveling back to see folks and were even lucky to have family and friends make the long trip down here to see Gail. Her cancer took such a toll on her especially in her back that she had to undergo a major back operation. Seven years she had been battling this nasty disease and it had weakened her immensely. The surgery went well but the recovery brought on a comatose state and serious infections. She hadn't eaten for two weeks and I was scared. But the surgeon made some adjustments in medication and wanted to begin feeding her thinking Gail could make a turn for the better. I was hopeful but the next day I got a call from the respiratory doctor telling me that she had pneumonia and a serious infection. I asked if they were feeding her and his comment was, " Why feed her, she has Cancer? We can make her comfortable until her time comes ." I told him he was lucky he wasn't right in front of me or I might have choked him ! I immediately moved Gail to another hospital and they worked feverishly on her. At one point, they said they did all they could and I should probably prepare for the worst. I refused to give up on her because she had been such a fighter for so long. To the doctors surprise, she made a turn for the better and was able to leave the hospital after three months and came home with us.
She walked with a walker and even made it to a cane and sometimes nothing at all but the cancer stepped in again and she broke her femur. She was rushed in for another operation and in addition to the hardware already in her back, they put more rods and screws in her thigh. She did the best she could to maintain that beautiful smile but became more and more weakened. Through this all I did the very best I could to make her happy and comfortable and our daughters Allison and Amanda were nothing less than amazing ! I couldn't have done it without their strength. They both weren't happy to have to move this long distance away but they made the best of it, mainly for their mom's sake. Her Oncologist Dr. Gisa Schunn, a lovely,upbeat, very thorough and postive person was great throughout her treatments. Gail put her trust in Dr Schunn.
Recently though Gail was in and out of the hospital for transfusions and other treatments and was developing major swelling in her legs and feet. Her appetite and mobility worsened. I always tried to put in front of her something she would like. I would make spaghetti but she would want it and I would say" What do you want then?" She would say, " Pork Chops, mashed potatoes and gravy !" I would run out, get it, whip it up fast before she lost interest. For a while that worked to get food in her but eventually she began eating less and less. I would get a bit frustrated with her. I would say do it for the girls and me as well as you. Food is medicine. I feel so bad that at times I would get short with this beautiful person who fought so valiantly.
Last week she went back into the hospital to try to control the swelling which basically made her bed ridden. This time you could tell things were different. They did tests, but she told Dr Schunn that she knew this was the end of her battle. She had done all that that beautiful petite frame could, but had accepted the fact that that she had little or nothing left. She wanted her last moments on this earth to come peacefully. I am glad that the girls and I along with her sisters were able to be with her to comfort her. Even two of our best friends dropped what they were doing and braved the trip to be close to her at this time. We all got a chance to tell her that we loved her and she told us all as well. We had a Catholic priest come in and give her Last Rites. She seemed more at ease and so did we.
Early Sunday morning, Palm Sunday everyone decided to go home to freshen up. I stayed behind. Gail didn't want Allison and Amanda to be there when she left this earth. There she was worrying about them hoping not to cause them any extra grief.
She was in no pain and at peace. I watched her as she took her last breaths. It was cloudy and grey out all morning but at that moment the room became real bright and the sun came out. I am so glad I was there holding her hand as she passed into God's hands. No more tests, no more treatments, No more pain.
What I saw at that moment was the face of an Angel and a Glow about her that took my Breath Away !
I will Love you Gail, Always and Forever !