Etta Rollston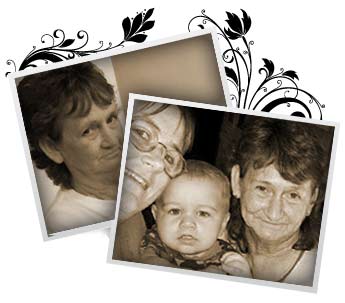 Ken's Mothers name is Etta Rollston. Etta is a country girl from South Hill, Va. To look at her at 64, she is the vision of what good health at that age should be. 5'6 inches tall, weighing in at a healthy 175 and always sporting a smile. She covers her grays with Loreal to keep her long auburn hair flowing in an almost successful attempt to turn that 64 to a 46. Etta was born and raised in the southern Virginia,so gardening, fishing and yard work were things she did without thinking twice. It is all part of her day to day culture. Etta lives alone and conducts her life totally independent and self reliant. She is the mother of four children, three daughters and one son who happens to be my husband. All of her children are grown and have families of their own; I am sure you can imagine that she has a ton of grand kids as well! Each and every one of her children turned out to be exceptional people, and are very special in their own way. They all have something unique and special to offer the world, and they do have their mother to thank for at least half of that. She also is the primary caretaker of her hearing impaired sister, Anne and her brother, William. Anne and William live together, Etta checks on them daily to make sure they have everything they need and provides things to them that their disability hinders them from doing themselves. Aside from being retired, Etta still makes a living cleaning houses, doing yard work and mowing lawns for extra money.
I remember at Christmas 2008 she was complaining about some shoulder pain and she was telling me it has been bothering her for quite some time. I remember that Christmas so vividly because her entire family was there for that holiday, and I had lost count of the many people. Her house had been decorated so beautifully and she was so incredibly happy that day. She was telling me that after the first of the year she had an appointment with an orthopedic surgeon and she more than likely would have to have surgery on her rotators cuff.
January came and went and Etta had her initial consultation with the orthopedic doctor. They decided that it was certain that they would need to perform surgery. There were some preliminary tests they needed to conduct to access Etta's overall health before they would move forward with the operation such as blood work, EKG, x-ray and a mammogram. At 64 years of age, Etta has NEVER had a mammogram.
So here it is, early February 2009, the results of all of Etta's preliminary medical testing is in. Everything came back in great health, everything with the exception of the mammogram. It read small tumors on both of her breasts. I cannot tell you how she was feeling on the inside, because she always wore a smile on the outside. If she ever complained about anything, it was about how sore her shoulder got at times. Her oncologist sent off biopsies of the tumors, and at that point all we could do was wait. Anyone that has been through a cancer scare or cancer of themselves or a loved one knows that wait is a truly unbearable. Days seem like years and minutes like hours. No matter what you are doing, whether it is driving, horseback riding, watching T.V., or playing with your kids, it is there nagging at your brain like a police siren. Etta kept on her brave face. Her sister I mentioned earlier, Anne had beat breast cancer nine years prior to this. I do not know many details of Anne's fight, except that she had a double mastectomy, chemotherapy and radiation. I can tell you today, in present time and Anne is still in remission, twelve years later. She is in her late sixties and remains relatively active.
Later that week, Etta's test results confirmed that she did in fact have breast cancer. The positive thing was that it was caught in its earliest stages. Etta was treated at MCV in Richmond, VA. She had a team of great doctors and nurses in her corner, that itself makes all the difference in the world. Etta's oncologist decided that she was a good candidate for a somewhat new and innovative form of breast cancer treatment called a partial breast brachytherapy using a contra catheter. What they did first was perform the lumpectomy. The procedure of delivering radiation is minimally invasive and given on an outpatient basis. It took only five days! What they did is insert a balloon like catheter inside the space left after the doctor removed the tumor (tumor resective cavity) with a tiny radioactive seed. The tiny radioactive seed is then connected to a machine called an afterloader, inserted into the balloon and delivers the radiation therapy. Etta received her treatments twice a day for five days. Once the treatment was over, the catheter was drained and removed. Scarring was minimal. She did have an infection I recall on her left breast at the sight of the incision, but that was treated and healed after some time.
I know that much of Etta's success was her attitude! I know there were times she was scared, angry, lonesome and just downright hurt. I also know that she permitted herself to have these moments and let herself cry when none of us were looking. She had certain people reserved for her breakdown moments aside from us kids (no matter how old we get, we will still be the kids). The Etta I saw had on her game face. She talked about what she was going to plant in her garden in the upcoming spring and MEANT it! She gave us kids hell when we did something she wasn't crazy about. Cancer was something she had, and in her mind, it did not have her. She knew she was going to get through it because she had things to do. Etta is doing great two years later to this date. She is actively being a Grandma, cleaning houses, gardening and being a survivor.
My message to any cancer patient and their family:
Never give up your identity; you might have cancer, but it does NOT have you! It does not take away the special, unique person that you are. Do not let that nasty, horrible disease take away your soul. Stay true to yourself, no matter what. Never, ever give up hope, even on your sickest, yuckiest day. On that day….nap and rest, tomorrow is a brand new day. Remember that there is a river of love and support all around you, even if you do not have much family. There is morefamily and friends out here than you know what to do with, and we are all here in your corner, routing for you! Ask your treatment center for details and resources.
Keep fighting! This too shall pass.
Once it does, you will be stronger and wiser, and your helping hand is going to make some else's journey through the same path a little easier.
Elizabeth Rollston