Country Music Recording Artist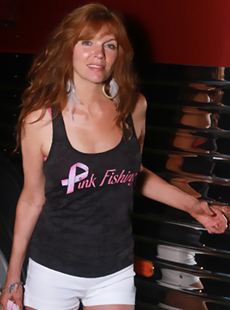 Hi everybody, my name is Ella May and this is my story, I was asked to write a bio and thought I would try to be a little more personal and write something from my perspective rather then have someone write a bio for me , about me, and if you know me you know I like to talk!
I was born in Waukegan Illinois in 19 and something? ha ha one of the advantages of writing about yourself! I come from a family of six, three of them brothers and mom and dad. I am happily married and have 3 great kids and 2 step children, I love my dog Alex and love animals in general. My family is the most important thing to me! I Cherish every moment and never take them for granted.
I have been lucky enough to have had some good and different lines of employment through out my life every thing from a nurse's aide to a bartender, and also managed a property rental office and did all the legal actions involved in that line of work. I have been blessed to have met thousands of people from all walks of life. I believe that all the different lines of work and all the people I have met have made me a better person and gave me a good out look on life, and taught me that everybody has a story or something going on in their life and no matter how small it may seem it's a big deal to them and we should never judge each other or anyone else. My Mom always told me, "I f you want to know someone, just listen they'll tell ya"
I now live in Nashville TN and have been pursuing my music career as a songwriter and country artist. I recorded a song called "Girl with a Fishing Rod" it was released to radio and it was pretty successful, it opened so many doors into different worlds that I never ever would have thought possible. It has led me to the fishing world of which I had no idea was such a huge place! It led me Pink Fishing which was no accident I'm sure of that! When Delton approached me about being the spokesperson for "Pink Fishing" I was flattered and astonished all at the same time! The only problem I had with it was, I didn't know what a spokesperson did? I talked to Delton and he told me to" just be who you are"," do what you do, and help spread the word about "Pink Fishing" Well I thought about it for a little while and personally losing a couple of family members to breast cancer and reading about what "Pink Fishing" stood for and what they were doing it was very clear, I was meant to be right here!
I only hope that my status in the music industry and now in the fishing world can help spread the word about what "Pink Fishing " is and what they stand for and all the good they do! I have met so many good people since becoming a part of "Pink Fishing" I have heard some sad stories and talked with some very special people with sadness in their heart! And may GOD bless them and their families! I have also heard some great stories of happiness! And it all makes me proud to be a part of such a great thing!
Sincerely: Proud to be the official spokesperson for "Pink Fishing" "Ella May Kay"
Ella May's Photo Gallery
no images were found