Elaine Peacock
www.elainepeacock.com
www.reverbnation.com/elainepeacock
email: [email protected]
twitter @elainepeacock53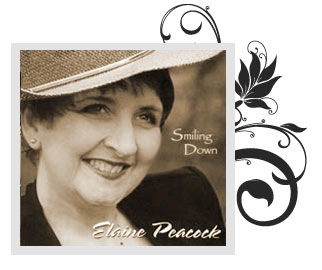 My cancer story did not just begin in December 2009. A family history of cancer on my mom's side has been ongoing. In the mid 1930's my grandfather was diagnosed with leukemia and died leaving 6 children under 11. There was no cure in those days….he had to eat raw liver for his red blood cells. My grandma, left with 6 small children to raise, still found the time to go door to door, dragging a leg due to polio as a child, to collect pennies and nickels for the Cancer Society so that research could be done to find a cure. I feel very grateful to her for her diligence and feel a real spiritual connection with her. In 1974, at age 40, my Uncle John, was diagnosed with a malignant tumor the size of a grapefruit in his chest attached to his lungs and heart, name… Hodgkins. How terrifying for him ….he had a young wife and 8 children under 14. Following surgery and treatment …by the grace of God …..He lived for 25 more years, cancer free.
My breast cancer story began in 1981 when I found a lump which continued to grow…in my left breast. Having three small boys under the age of 5, it was frightening. After testing and a lumpectomy, the quarter size tumor was removed…Results…Benign …..and I thanked God. Diagnosis was fibro cystic or dense breasts. I made it a point then to get a mammogram every year. In 1990 my maternal aunt, found a lump through self exam, soon after her mammogram and underwent a mastectomy of her left breast. She shared with me that in 1990….1 in 11 women had breast cancer……today it is 1 in 3. So look around…either you have had breast cancer or know someone who does or has. My aunt is a 20 year breast cancer survivor and is a great hope and support to me. Two of her daughters also have had surgery for thyroid cancer and a hysterectomy due to pre cancerous cells. I also had a total hysterectomy due to endometriosis in 1992. In 1995 after a routine mammogram, I was called to come back in for a second look at an area. In the meantime, I was a member of a music ministry group at a monthly healing mass. During that Mass, the hand of God firmly touched my chest, making me to step back ……and I thought that was strange!
That week I went for the second mammogram and Dr. Quilbani called me in to let me see the x-rays. She said there was definitely an area of concern in the first one but no sign of anything in the second mammogram. I was elated. I remembered later what had happened at the Mass and I believe that the hand of God healed me. That same year, my 90 year old Grandma died of colon cancer as well as her sister…..So as you can see cancer runs in our family.
Fast forward to October of 2008. My husband changed jobs with a cut in pay. Insurance coverage for me through his company was not affordable for us. I said no problem, I will just get an individual policy……..easier said than done. I was turned down by the same company that had covered me for years, stating too many health issues. Applying then to other insurance companies, in the next 8 months who either who turned me down or would cover me for far more than our budget could afford and excluded issues that I needed coverage for. Very frustrating. Being healthy, we decided to wait for open enrollment at his company in December 2009. For years I had taken care of myself by having annual exams and mammograms. This last year was different due to out of pocket expense for the preventative routine maintenance checkups. I skipped my mammogram in 2008. After hearing of a free mammogram program at the June E. Nylan Cancer Center in an ad on TV in September of 2009, I called about it. In October I was accepted and had a mammogram at the Mercy Breast Care Center. In November they called and said I needed a second mammogram due to an area of concern that they wanted to recheck so on December 3, I went for the second mammogram which really did not concern me as I had this happen before. I could not feel the lump myself, and it only showed up on one of 4 of the digital images that they took ….. Again, in my left breast. Thank God that it did show up. After the mammogram the Dr. asked me to come in for a biopsy on the area in question. Not really taking it serious I asked if I could wait until after Christmas, as I had a very busy schedule in December! With a look of panic and with firmness, she said….NO I want you back next week!! Then I began to get more concerned!!
On December 8, 2009 after a biopsy, my life changed in an instant. I was diagnosed with breast cancer in its early stages. As I listened to Dr. Peshori explain that the lump tested positive for cancer and that it was caught early, I sat in shock, sadness, with tears rolling down my cheeks. I thought of my husband who was listening and there for me, of our children and grandchildren and all of the things that I had wanted and planned to do!! After looking at my schedule, Dr. Pesori said that the surgery could wait until after Christmas and then surgery followed by radiation since the lump was so small. About a rough 3 months or so and I would be good to go!! That was good news to me! One of the nurses, who had had a double mastectomy, came in to talk to me and she gave me hope …..as she was a 10 year survivor. Asked if I had a surgeon….. a hard question for me……never having need of a surgeon for years!! She set me up with a wonderful surgeon, Dr. Lawrence Volz, who is awesome. On the way out of the office, I got mad like a little girl and stomped my foot saying…"God, I don't have time for this!" Later I laughed at how God must have had a good chuckle over that one as a parent might! I am learning through all this again….that HE is in charge of our life from beginning to the end and that this was no surprise to Him! And I have faith that HE would get us through this. When we came home my darling husband Paul gave me a hug and said "We will get through this and look you will have more to add to your story when you sing!" What a man with wisdom and insight and love..….. who also has become a great nurse and also has done dishes since my surgery….grocery shopped …sometimes he thinks I might be pregnant due to some of the things I ask him to get for me!!!! Paul is wonderful and I am so blessed!
I saw Dr. Volz the next week. He examined me and could not even feel the lump….that is how small it was. He went on to explain the options of either a mastectomy or a lumpectomy in his very kind and understanding manner. My husband and I talked it over for a few minutes and decided on a lumpectomy, since I was a good candidate for breast conservation. I thought, thank goodness I have a little extra, not a bad thing in this case!!!
During this whole time I continued to sing and give Christmas concerts which kept my mind off of the impending surgery, as I made other people laugh and be happy with the music and ministry that I was privileged to do. I did not have much time to think about myself and the cancer, which was a good thing, although it was ever in the back of my mind! My last concert was December 21. On the Morning of December 22, 2009 I had surgery. Following the surgery, Dr. Volz found a lump a little more than a centimeter, about the size of a pea, but had take a pool cue ball size area of tissue out and 8 lymph nodes. Two of the lymph nodes tested positive for cancer which meant that the cancer unfortunately had spread into my lymphatic system; but, the tissue margins were all clear. The cancer was determined to be Stage 2. Since it had spread and the cancer was very aggressive ….meant….chemotherapy first followed by radiation …. At least a 9-10 month process …… I guess God really slowed me down and knew I needed a rest!! And I rest when I need to…..always thought it would be fun to hibernate like a bear during the winter…..this year I got my chance…..not as much fun as I thought but the naps are really nice!!
The healing process has been a learning process. I have found that I really like to be in control of things; Imagine that! After an attempt to schedule appointments at the cancer center at my convenience, I had to let go and let God …. Again….and let them make the appointments with the Dr that was available and around their times….I said alright God I get the message….I am not in charge!!!! You are!!!! Thinking that I could still make my scheduled singing dates, I was positive that I could go in get chemo and go sing…….NOT. One of the difficult things about this, besides losing my hair, was to have to give in, stay home and cancel all of my concert dates for the next few months and tell people …. "No" I couldn't come and sing and not being able to plan. Being a doer and goer and giver, it has been a growing lesson in just being and allow God and others to give to me. Being loved and cared for and blessed by just being who I am …. A valuable and loveable child of God and sitting on His lap and letting Him hold me and heal me.
In January, I attended a Look Good Feel Better Program at the cancer center sponsored by the American Cancer Society. The ladies gave us a bag of makeup and facial products and showed us how to draw eyebrows (something I hadn't thought of losing), when it came to losing my eyelashes, I started tearing up….not my beautiful eyelashes too God I thought, as of yet I still have both. (I did lose my eyebrows after the Taxol treatments later though and most of my eyelashes but I still have some!)
On January 14, I had my first appointment with my oncologist, Dr Rahda Rao. The cancer was very aggressive, and caught early, Stage 2 and estrogen positive which is very treatable, my margins were clear and markers were good … and prognosis is very good for a positive outcome. She researched clinical trials for me and found one that I could be on .. E5103 A Double Blind Phase III Trial of Doxorubicin and Cyclosphosphamide followed by Paclitaxel with Bevacizumab or Placebo in Patients with Lymph Node Positive and High Risk Lymph Node Negative Breast Cancer. I decided to do this as it might help someone else too someday to know if the drug administered during treatment would help to decrease the chances of re-occurrence. On February 2nd, I had my first chemo treatment followed by 3 more treatments on Feb 16, March 2 and March 16th. Chemo and blood is drawn through a Port that was surgically put in above my right breast on January 19th … what a blessing to not have to deal with regular blood draws and IVs!! I highly recommend getting a port!
Losing my hair was a difficult one too….but after my dear friend came and shaved it off….on ASH WEDNESDAY (Feb 17th) ….What a better day huh? (Lent was very meaningful this year) …. I looked in the mirror with tears and said to her…. "If Robin Roberts can go on Good Morning America national TV with no hair, I guess I can do this on a local level!!" ……Laughing through the tears. Chemotherapy is not a fun ride….actually a rough ride and every treatment has been different for me with different side effects. One time bad headaches, the next time, a little nausea and tiredness, the third time a lot of nausea and slept for almost 2 days straight and then was dealt with throwing up and diarrhea all night …… and the meaning of 5 minutes at a time and the word HOPE and a trip to the cancer center to get hydrated and more iv anti nausea meds. The fourth treatment we managed better with anti nausea IVs and gel to rub on my arm. The gel was only available at a pharmacy 1 hour away…..my darling husband went there got it and came back to the center while I was receiving care…bless his heart. I made it through the 4th treatment with with no nausea due to the gel and anti-nausea drug Emend except for feeling absolutely wiped out as my blood levels were on the anemic side. I am learning to listen to my body, eat what sounds good….sometimes it was ginger snaps, ginger ale and potato chips, pretzels and Marie Calendar Chicken Pot Pies!!!
One thing that happened while on chemo is that my blood counts would drop and I would be anemic and I was prone to infection. So I stayed home and took care of myself and not risk of getting anything that might hinder my health and getting chemo on schedule. During the first 4 chemo treatments I would go in the day after chemo and get a shot of Neulasta which helped to build up my white blood counts and bone marrow. Our bodies are so amazing….by the next chemo treatment my counts were right up there again. The hardest thing about staying home was not going to church. Father David visted and brought communion and healing prayer and encouragement which I am ever so grateful to him for taking time to visit us.
On March 30th, Dr. Rao switched me to a new chemo drug, PacliTaxel every week for 12 weeks. She said it would be easier on me than the last two and that I would not be sick. I was a bit skeptical and a little anxious….I did not want to be sick again like I had been. I had been given Emend anti nausea drug and it had worked for me so it was hard to give it up and trust her. She said her patients did not get sick on the Taxel and she did not want to over medicate me with Emend which might cause more health problems (i.e. liver and heart damage) if I did not need it. So I trusted her and guess what, she was right, I have not been sick a day since, what a blessing. I had a bit more energy and slept much better except for the nights of treatment. The drug that they gave me to prevent a reaction kept me awake and zooming for a day or so and gave me rosy cheeks!! I was grateful that I could feel a little better. One of the side effects were blistering and peeling of the bottoms of my feet, so off to the shoe store to get a very cushy pair of slippers and no unnecessary walking except around the house. The next week we purchased a recliner to get my feet up too. Other side effects toward the end of the treatments, which are cumulative, were tingling in my hands and feet; lack of appetite or nothing sounded good (never in my life have I had to make myself eat!); and, I was very, very tired, no energy which was frustrating to me to not be able to do the things I wanted to do or was able to do before. I did accept it though, figuring this was probably one and only time in my life that I could sleep, eat and nap and be waited on so I might as well enjoy it!
On June 8th, the clinical trial was un-blinded and we found that I had been getting the placebo during the trial so no further treatments after my last chemo. My last chemo treatment was June 15th which was such a surprise as I thought I had another week. When I left the cancer center, I rang the "Bell of Hope"……it was very emotional for me ….an array of emotions from happiness to joy to relief to thankfulness …. I cried as people clapped. What an accomplishment I felt, and so much gratitude to God for His love, the courage and strength He gave me and helping me to get through chemo one day at a time. He had spared me from many of the side effects of chemo…I believe that faith and trust in God, prayers and a positive attitude helped me do so well. I was also so grateful to Dr. Rao, other DRs, the nurses, staff and all my friends and family for their help, good care and many prayers. After a three week break of rest and preparation for radiation, I began radiation on July 6 everyday for 33 days……..they tell me that the side effect of radiation is tiredness…..I know tired and can deal with that so…story to be continued!
It was a joy to be able to go to church on June 27th after almost 6 months. I also could have fresh fruits and vegetables. Although I could have had them when my counts were up, I just didn't as I did not want to contract any bacteria or CDIF and did not have to worry about it throughout the chemo treatments. So I chose to have cooked, canned or frozen fruits and vegetables since February and wear rubber gloves when I handled anything fresh to prepare for cooking. I was able to keep up with the cooking and the laundry pretty much; and my sister provided a cleaning service in April and May for me (bless her heart). There are so many things we take for granted when we have our health, for me life will not be taken for granted again.
What a blessing my husband, friends and family and so many others that I did not know before have been on this journey. I had fresh cut flowers throughout the nine months and cards in the mail everyday as well as calls; and, visits when my counts were good. I have a deeper understanding of the love of God and am growing even closer to Him every day. There isn't anything that He can't handle. I have a renewed appreciation of one day at a time and my limitations and letting go and letting God. Like the alcoholism that our family has dealt with….and the blessing of my dad's recovery for 32 years before his death, I am reminded that in cancer….. I did not cause it, I can't control it and I can't cure it. My prognosis is very good for 100% healing so I remain positive and know that it is something that I need to go through and He is giving me courage and strength to get from the valley to the mountaintop and that He will take care of all of the details. One of my favorite songs is "God on the Mountain is still God in the Valley".
It is a good feeling not to fear and to trust in His good plan and purpose for all of this, even though I do not understand. When I went into surgery, I had gotten to the point of Your Will Not Mine Lord and no matter what happens….I am a winner……I get to live longer or I get to be with you Lord and my Dad and family who is in Heaven with you. That gives me peace …… no matter the outcome. I am grateful for this time of quiet and reflection and prayer; regrouping and being home with my darling husband and maybe helping others too.
I thank God that I was able to get my mammogram when I did….had I waited, it may have been a very different story and outcome since the cancer was very aggressive and estrogen positive. My hope is that you all take care of yourself….get your annual checkups, if the cost is an issue….call the June E. Nylan Cancer Center or your state agency or local cancer center and check on their free mammogram program. There is assistance and aid if you do not have insurance. My worry about money and the cost of all of this has been lessened by the good care and understanding and help by Mercy Hospital, Dr. Volz, Dr Rao, the other Drs, the nurses and the cancer center staff; and all our friends and family who are organizing fundraisers. (During the summer that I was sick, our family, friends, music and square dance friends, church and community held 7 fundraisers to help with medical expense for which we are so grateful and humbled!! I am also very grateful to have medical insurance now which is also an amazing gift from God!)
So I keep my eyes on Jesus, a good attitude and sense of humor and gratitude even through the tears. I trust in God for His provision in everything and know that my health and life is far more important and that the rest will be okay with His Help and His great LOVE.
Scriptures that helped me through are Jeremiah 29:11-13 which is my life verse, "11 For I know the plans I have for you," declares the LORD, "plans to prosper you and not to harm you, plans to give you hope and a future. 12 Then you will call on me and come and pray to me, and I will listen to you. 13 You will seek me and find me when you seek me with all your heart." (NIV); Isaiah 41:10 10 So do not fear, for I am with you; do not be dismayed, for I am your God. I will strengthen you and help you; I will uphold you with my righteous right hand." Matthew 19:26 and Mark 10:27; "With man this is impossible, but with God all things are possible." and the verse and words to a song…. "They that wait upon the Lord, shall renew their strength, they will mount up with wings as eagles, they shall run and not be weary, they shall walk and not faint, teach me Lord, teach me Lord to wait." When I was sick and could not sing, my spirit would sing to me the songs that I sang for others before I got sick…..God is so good!!!! So my music and songs mean even more to me today!!!
Radiation went relatively well, not much burning, and was a breeze compared to chemo…..on the last day of radiation, I got to ring the bell again! Finally done, my Paul and good friends, gathered round me as I rang it 7 times (for in scripture 7 is a number that made the walls fall down!) we then went to lunch and celebrated! Following radiation though it took me many months to get over the tiredness from all that my body went through. 2 years out, I still get tired but nothing like I did during treatments. I did not know what to do after I started gaining more strength ….. needing to help with the medical bills, I applied for many jobs with a few interviews. It did not bring any fruition except getting me focused on doing something with my time as I applied for jobs and giving my husband and me some hope as I sought to follow God's will for me on this new chapter of my life. In March of 2011 after months of job search, I let go again and let God. During my prayer time one day, I talked to HIM ….. said "I have no clue what it is that I should be doing…..or what you want me to do except to continue getting better; I asked Him to show me, when it was time what HE had in mind, maybe I wasn't ready to hold down a job as I was still regaining my focus and memory that the chemo treatments had played havoc with…..and, it was slowly getting better as Dr Roa had said it would! Maybe I wasn't supposed to do anything except be home, I said I would do whatever His will for me was, and if it was singing again, I would gladly do that …. Only whatever it was He had in mind needed to be profitable, possible and energy possible"…..of course He already knew what I needed…I just needed to let go! Two minutes later the phone ….it was someone who wanted me to come to her church to sing (she had been waiting two years for just the right time….having no idea why my schedule was very blank!) We agreed that I would come and sing as long as I could….I didn't know how long that would be at the time! In the days that followed, the phone did not quit ringing and my schedule filled up for the following months!! I felt in my heart that this was what He wanted for me!!! I learned to "PRAY ATTENTION" and to balance my work so as to regain strength and not get over tired. I am so grateful to be able to be singing again and doing what I love for HIM. I learned to say no or accept when He said no; hind sight shows me that always He has a better plan if I trust Him and wait because He had something else for me to do! Before I got sick I sometimes wondered if I was fulfilling the purpose He had in mind for me…..I know today that it is!! Thank you Lord for giving back the music!
I also learned to balance my time and energy…..time for rest, time for my husband, family, grandchildren and friends. Time to Pray attention and communicate with HIM and my darling husband. Time to help others who are going through this journey with cancer. Time to give HOPE to others. Time to sit and look out the window at the beauty all around us and all the gifts we have been given!! I have learned not to take time and life for granted…..it is a gift!
As of February 2012, all blood tests show cancer free and in remission….I am now on a six month checkup rotation instead of 3 months….and I am grateful. Thank you Lord…….as I trust in your plan for the future….knowing that with HIM we win!
Here is my poem written through the journey and finished in Feb 2011…..always remember it is one day at a time and an ongoing journey of life until we meet our Father in Heaven…..it is then that we will understand…..knowing each day that HE is with us always.
The Journey By Elaine Peacock
Breast Cancer Story December 2009-February 2011
It was a cold and windy snowy day on the 8th of December
As I sat in shock, sadness and tears….I was diagnosed with breast cancer
I stomped my foot and cried, "God, for this I don't Have time"
I am sure He smiled, saying "Just trust me, I am with you o' childe of mine"
It was a day my life changed in an instant, one I will always remember
So many thoughts and feelings for me that very cold day in December
My husband said "just think of all you will have to share when you sing
As he wrapped his arms around me "We'll get thru this", he was so comforting.
Things went so fast, saw the surgeon the following week, December 15
Caught early he said and so many decisions to make and to seek
With surgery scheduled for December 22, and so much was at stake
I could not plan the future === Only trust God and His hand I could take
On this journey, A path I did not chose to walk down, trusting in God
One day at a time for His guidance, strength, and love,
Saying to Him, your will not mine, Dear Father
No matter the outcome……I win … I'm a winner.
The cancer had spread so chemotherapy and radiation were in store
Not a fun roller coaster ride – that is for sure
But every treatment means one day closer to well
100% healing I believe, for with Him all things are possible!
So many blessings in the valleys along the way, family friends have showered me
With love and cards, calls and meals and so many new friends I am privileged to meet
On this journey of nine months to new life as I learn to take better care and to graciously receive
All the gifts that God has given me on this very special journey.
On this journey to new life , A path I did not chose to walk down, I trust in God
One day at a time ……. for His guidance, His strength, and His love,
And my prayer to Him brings peace ….. "Dear Father, "Your will not mine"
" For no matter the outcome ….. with you …… I win", and I am yours all the time.
9 months to new life…. Sept 22nd brought good news galore
For God knew for sure what was in store
A 3 month checkup since chemo had ceased
We waited for the test results and I was relieved!
Blood tests showed cancer free
Such good news and I shouted Yipee!!!
Thank you God for your healing and grace
I had fought so hard and won the race!
6 month check up showed more of the same
And I thanked God again and praised his name
I live for today and trust Him all the same
For my life is in His hands as I call upon His name
I continue to trust Him one day at a time
For He knows all the answers, reasons and rhymes
My life is in his hands and I trust in His plan
For He wants me here today — just as I am.
Life is unknown, …… and it is so exciting
To see what God has in store and what the future will be bringing
One thing I know for sure is this
Only good gifts and plans for me are on HIS list!
Thank you God for your gift of healing and love
Sent by you from heaven above
Thru doctors and nurses and friends and family
O dear lord I praise thee! O dear lord I praise thee! O dear Lord I Praise thee!