Debbie Smith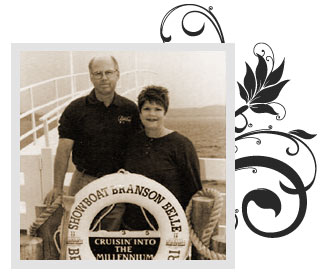 The first time I saw Debbie was in the 7th grade in the library at Bonaham Junior High in Odessa, Texas. She was reading a book off in the corner and I thought she was beautiful.
Debbie and I went through junior high and high school together both graduating from Permian High in 1966. We never had a class together, but I knew who she was. I am not even sure if we ever spoke. We ran in totally different crowds.
In 1967 my mom sent me the Odessa American newspaper when I was in Vietnam with the3rd Bn 4th Marines. Debbie's picture was in there in a bridal dress. I remember thinking that by the time I got home, all the really nice girls would be married.
After my discharge from active duty, I saw Debbie and found out she was divorced. I asked her out and six weeks later, April 5th, 1969, we married. Our son Todd was born Febuary 2, 1970.
Debbie was a hair dresser and through her efforts and support, plus the GI bill, I went to college. After graduation I was transferred to Abilene, Texas with Cardinal Health in 1977.Debbie continued to do hair and was very active in our church serving as a deacon and teaching 4 year olds in Sunday School Class for over 20 years.
In August of 93, our son Todd, as well as Debbie were diagnosed with cancer within just a couple of weeks of each other. Todd had liver cancer & Debbie was diagnosed with breast cancer. They were both doing chemo and it was a very difficult time. They worried about each other more than they worried about themselves. As for me, I was so very scared for both of them.
We got hospice involved for Todd and he passed away with us by his side in our home January 15th, 1994. Debbie was now doing radiation and losing Todd really pulled her down.
For the next 7 years Debbie had things happen like pulmonary emboli and never seemed to have much endurance. She was on a lot of medication, Tomoxafin, Toprol, etc. She worked with chemo patients on the program "Look Better, Feel Better" sponsored by the American Cancer Society. With her expertise in makeup and doing wigs, I know she helped a lot of ladies who were going through what she had. On occasion, I went to the hospital or to a patients home with her. I know that she touched a lot of lives in many different ways.
Debbie was only working 3 days a week and one day started having severe pain in her right neck and shoulder. It got so bad she was hospitalized and placed on IV morphine. Upon testing, it was found that the cancer had metastasized into her neck muscles on the right side. That was October of 2002.
Debbie went through chemo again and also radiation. She wore a pump for the Adramycin and was quite ill. The cancer then spread into her cervical vertebrae. I was going to get her ready to go to the hospital one morning and she said she was not going to do anymore and requested hospice.
Debbie could still get up and around and I tried to stay pretty close to home. After a while it was obvious that she was losing motor skills and was partially paralyzed on her right side. I took a leave from work and stayed home with her. I had her hospital bed next to our bed in the master bedroom. She had a walkie-talkie so she could beep me if she needed anything.
Debbie began sleeping a lot more and soon was barely able to swallow. I was giving her morphine drops for pain under her lower lip. She also got to where she didn't want any visitors. I knew then she was disengaging. On Friday April 25th, the hospice nurse told me to take Debbie off of all meds with the exception of the morphine. Debbie was still taking steroids and another medication for her heart. The Adramycin had damaged her heart during her last round of chemo. Debbie's sister Gena came and helped me with her and also provided a lot of moral support. I was thankful for her and for our church family. We were blessed to have so many wonderful friends.
Debbie woke me in the middle of the night that Monday and was in a lot of pain and asked me to knock her out. I called the hospice nurse and was told to give her more morphine. That was the last thing Debbie had said to me. By Monday AM, Debbie was in a coma and remained there until she passed away Wednesday evening April 30th, at the age of 54. We had Debbie's service that next Saturday and she is buried next to our beloved son Todd, at Elmwood Memorial Park, Abilene, Texas.
Debbie and I had many conversations as to who would be pallbearers and if the casket would be open, music, what she would wear and all those kinds of things. It was so very difficult to talk about that, but I know she wanted to. I learned from Todd that when they are going to die, they do want to talk about it. Debbie was very concerned for me as was Todd for his mother and I.
I can only pray that when my day does come, I too will have the kind of courage they had.I was so very lost. Debbie and I had been married for over 34 years. When I lost Debbie I felt like I was losing Todd again. We supported, loved, and leaned on each other and now that too was gone.
During the years Debbie was ill, I still had my soul mate and my companion, but actually felt as though I had lost a wife. I know I suffer some from what is called survivors guilt. Not only from Vietnam, but having a son and wife precede me is just not normal. At times when I feel happy, I often tend to feel guilty. I know that is probably natural and just part of grief.
I have remarried and have been Blessed again. When a window closes the Lord will open a door. I am and always will be thankful for the years we all had together and I know that one day we will all be together again.
Ron Smith
………………………………..
A Tribute to "Ms. Debbie"
by Janice Six
Daughter, sister, aunt, wife, mother, grandmother, and friend were all titles treasured by Debbie, but her eyes twinkled in a special way anytime she shared the title of endearment awarded her by the little people in her life – "Ms. Debbie."
"Ms. Debbie" as she was affectionately called by a generation of children at FCPC, was a nurturer, caregiver, lover of beauty, and role model of hope, perseverance, joy, kindness and gentleness. Graciously sharing her love with every three and four year old who entered her Sunday morning classroom over the past 20 years, Ms. Debbie's soft voice, gentle touch, and welcoming manner conveyed God's love to all the little children of the church. Whether telling a Bible story, coloring a picture, or holding one of Todd's seashells up to the ear of a curious child, Ms. Debbie patiently took time to listen to the children. Seldom did I pass by Ms. Debbie's class and not see her seated in one of the miniature chairs with a child on her lap, guiding the little one's hands as he or she cut, pasted, or attempted to write his or her name on a work of art.
One of Ms. Debbie's final labors of love – with help from Deanna, was creating a memory book from the hundreds of pictures she and Ron – "Mr. Debbie" – had taken of children whose lives she touched and in turn touched her life over the years. Flipping through the pages of the book, Debbie's love for children was manifest in numerous ways. Hot dog cookouts and swim parties at Buffalo Gap, beautifully decorated tables for Easter parties and fall festivals, angel and lamb costumes during Advent, bubbles on the playground in the summer and birthday gift bags lining the countertop of her cheerfully decorated classroom bear witness to the love that Ms. Debbie lavished on the children of FCPC.
There are many photos – mental snapshots of Ms. Debbie with children that cannot be captured in a scrapbook, but are vivid in the minds of the parents of the little ones with whom she shared God's love. One of my favorite mental snapshots of Ms. Debbie is of her and a young boy seated at the concrete table in the courtyard sharing a hamburger and French fries on a Wednesday evening while the child's grandmother attended choir practice – just the two of them. Just the two of them? I think not. A scripture passage comes to mind, "Where two or three are gathered in my name, I am there among them." No doubt, Christ was in their midst. Wherever Ms. Debbie was, the radiance of Christ shone brightly.
Ms. Debbie will be dearly missed, and yet may the memory of her and the love of God that she freely shared with and for children never fade from our hearts and minds.
Whoever welcomes one such child in my name welcomes me, and whoever welcomes me welcomes not me but the one who sent me. Mark 9: 37